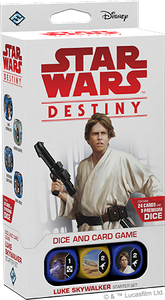 Product Description
Edit
Discover the legacy of two of the galaxies greatest heroes with the Luke Skywalker Starter Set for Star Wars™: Destiny! The set lets you take control of Luke Skywalker and Han Solo in their battle against the Empire. With twenty-four cards and nine dice, the Luke Skywalker Starter Set contains everything you need to start your journey into Star Wars: Destiny.
With powerful abilities, this unlikely pair of heroes is ready to take on whatever challenge comes their way. 
Contents
Edit
2x Luke Skywalker
1x Han Solo
1x Outer Rim Outpost
1x Quickdraw Holster
1x Bamboozle
1x Dangerous Maneuver
1x Hasty Exit
1x Maz's Vault
1x Smuggler's Run
1x Impulsive
1x Invigorate
1x Mislead
1x Perseverance
1x The Force is With Me
1x Hunting Rifle
1x R2-D2
1x Heightened Awareness
1x Hidden Blaster
1x Force Focus
1x Alter
1x Bravado
1x Heirloom Lightsaber
1x Millenium Falcon
Community content is available under
CC-BY-SA
unless otherwise noted.