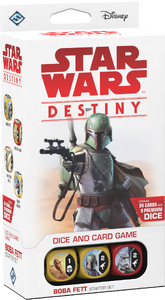 Product Description
Edit
Discover the legacy of two of the galaxies greatest heroes with the Luke Skywalker Starter Set for Star Wars™: Destiny! Hunt your target with the Boba Fett Starter Set for Star Wars™: Destiny! The set lets you take control the infamous bounty hunter Boba Fett as well as a veteran Stormtrooper of the Empire. With twenty-four cards and nine dice, the Boba Fett Starter Set contains everything you need to start your journey into Star Wars: Destiny.
Contents
Edit
2x Boba Fett
1x Veteran Stormtrooper
1x Arid Wasteland
1x Take Flight
1x Crackdown
1x Crash Landing
1x Quick Draw
1x Ice Storm
1x Backup Specialist
1x Superior Position
1x Face-off
1x Locked and Loaded
1x Hunting Rifle
1x Battle Fatigue
1x Rumors
1x Subdue
1x Imperial Might
1x Entangle
1x Hunter Instinct
1x 74-Z Speeder Bike
1x Hidden Blaster
1x Wrist Rockets
1x Slave1
Community content is available under
CC-BY-SA
unless otherwise noted.